Zürs Hotels with Electric vehicle charging station
For the fastest way to see the latest hotel and serviced apartment deals in Zürs enter your travel dates here.
Avoid range anxiety on your next holiday or visit to Zürs.  Charge the Tesla at any of these Zürs hotels with EV charging stations.
Thurnher's Alpenhof, a member of the Leading Hotels of the World, is a luxurious 5-star hotel in Zürs am Arlberg, surrounded by beautiful mountain sce...more
9.1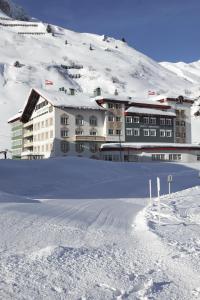 Hotel Edelweiss is located in the centre of Zürs am Arlberg. The slopes start and end right in front of the hotel, and it houses the Zürserl Club, whi...more
8.4
The lavishly decorated Albona Nova is a seasonal skiing hotel located just 30 metres from the slopes of Arlberg. Opened in summer 2016, the new on-sit...more
8.9
Last updated: 7 May 2021
Zürs Hotel Categories
Zürs Hotel Group Booking Reservations
Zürs Hotels with Conference, Parking and Internet Facilities
Zürs Apartments,Suites and Family Hotels
Zürs Hotels with Day Spas or Wellness Centres
Resorts & Boutique Zürs Hotels
Entertainment, Relaxation and Exercise at Zürs