Surfers Paradise Hotel Accommodation
Enter your travel dates now for the fastest way to see the latest hotel and holiday home deals in Surfers Paradise.
Surfer's Paradise is a popular Australian world class beach found in the Gold Coast. It boasts a wide variety of attractions, accommodations, and cuisines. Internationally acclaimed for its strong seaside culture, the beach has garnered many tourists and admirers all over the world. It is safe for inexperienced swimmers and young children because the beach is patrolled by qualified lifeguards at scheduled times. The beach welcomes both first class and budget travellers because prices range from high to quite low. There are so many dining options to choose from, so much so to keep one constantly hungering and thirsting for the quality food and drinks the beach has to offer.
The nightlife in Surfer's Paradise is very famous. Many young tourists mingle and interact with each other in a welcoming and lively environment. There are constantly presentations like fashion shows, concerts, and dance shows to keep the night pumping and the tourists entertained. 5-star accommodations line the beach and invite a lot of first class foreign and local travellers. Their presence brings a sophisticated and elite atmosphere to the area and allows restaurants and resorts to thrive because of the high consumption rates. There are over 500 stores selling all kinds clothes, gadgets, and books to keep travellers occupied.
Recommended for you
Near Surfers Paradise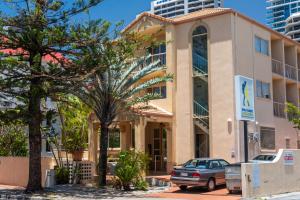 28 Hamilton Avenue Gold Coast Surfers Paradise 4217
Just 2 minutes' walk from the beautiful Surfers Paradise Beach, Gold Coast Hostel offers free Wi-Fi, a bar and a terrace with BBQ facilities. It offers rooms with a balcony and a private bathroom.Gold...more
6.3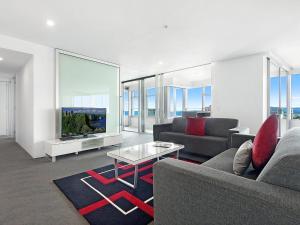 2905/9 Hamilton Ave Gold Coast 4217
Situated within the Surfers' Paradise district in Gold Coast, Private 2 Bed Ocean View in Q Surfers Paradise has air conditioning, a balcony, and river views. Boasting sea views and a swimming pool, t...more
8.4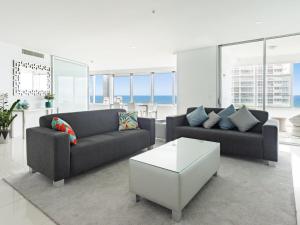 3103/9 Hamilton Avenue Gold Coast 4217
Featuring sea views, Luxury Private 3 Bedroom at the Q Surfers Paradise provides accommodation with a fitness centre and a balcony, around 500 metres from SkyPoint Observation Deck. The air-conditione...more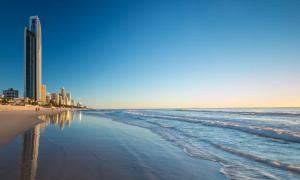 4 The Esplanade Unit 701 Surfers Paradise Gold Coast 4217
Situated in Gold Coast, 2.4 km from Gold Coast Convention and Exhibition Centre and 2.8 km from The Star Gold Coast,Soul Surfers Paradise Beach Apartment offers air conditioning. Guests can go for a s...more
9.2
3032 Surfers Paradise Boulevard Gold Coast Surfers Paradise 4217
Located in the centre of Surfers Paradise, voco Gold Coast features accommodation with ocean or hinterland views. It is located just a 4-minute walk from the beach and is surrounded by a variety of r...more
9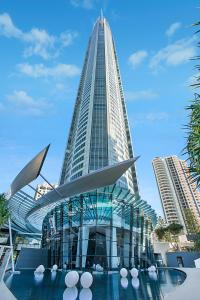 9 Hamilton Avenue Gold Coast 4217
Situated in Gold Coast, 4701 at 9 Hamilton Ave by GCHS offers a balcony with river and sea views, as well as an outdoor pool, indoor pool and fitness centre. Boasting free private parking, the apartme...more
9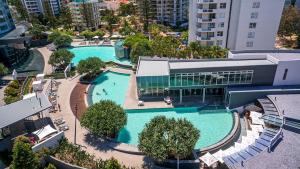 9 Hamilton Avenue Gold Coast 4217
Providing pool views, Serviced Apartments by GCLR at Q1 in Gold Coast provides accommodation, an outdoor swimming pool, a fitness centre, a bar, a shared lounge and a garden. Both WiFi and private par...more
8.5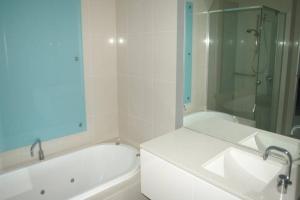 9 Hamilton Avenue 3006 Gold Coast 4217
Set within the Surfers Paradise district in Gold Coast, Q1 1 Bedroom apartment on 30th floor has air conditioning, a patio, and pool views. Situated on the beachfront, this property has an outdoor swi...more
9.2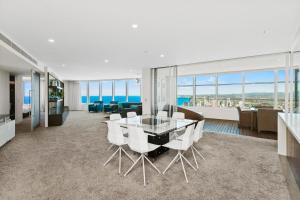 9 Hamilton Avenue Gold Coast 4217
Situated in Gold Coast, Stunning 4 bedroom Sub Penthouse - level 60 Q1 offers a patio with river and sea views, as well as an outdoor pool, indoor pool and sauna. This apartment features free private...more
9 Hamilton Avenue Gold Coast 4217
sorry no description available for this hotel at this time.If you have any queries please contact us [email protected]
...more
Surfers Paradise Hotel Categories
Surfers Paradise Hotel Group Booking Reservations
Surfers Paradise Hotels with Conference, Parking and Internet Facilities
Surfers Paradise Apartments,Suites and Family Hotels
Entertainment, Relaxation and Exercise at Surfers Paradise
Surfers Paradise Room facilities
Show all
Surfers Paradise Hotel facilities
Show all
Surfers Paradise Propety Type
Surfers Paradise Hotels by Street
Surfers Paradise Hotels by Brand
Surfers Paradise Hotels by Suburb