Sremska Kamenica Hotels with a Sauna
For the fastest way to see the latest hotel and serviced apartment deals in Sremska Kamenica enter your travel dates here.
Saunas are a great way to relax muscles and increase your heart rate, pumping more blood around your body without even moving! Although apparently most of the increased blood flow does just go to your skin. Try a cold shower half way through your sauna to rinse off and then get back in for a another 5-10 minutes and then finish with another cold shower, really gets the blood flowing and gives a great feeling of relaxation afterwards. Each of the Sremska Kamenica hotels listed below have saunas, enter your travel dates above to get prices and see the location of these Sremska Kamenica hotels with Saunas.
The list below shows all hotels we have in Sremska Kamenica with Saunas, where possible we have shown the section from the hotel overview where the Sauna in mentioned.
There are also 1 Sremska Kamenica hotels with Day Spas for various massage, facial and skin treatments if that is what you are looking for.
?????? ???? ??? Sremska Kamenica 21131
Villa Sunshine is located in Sremska Kamenica and offers a bar, a shared lounge and a terrace. The accommodation is 10 km from Sremski Karlovci, and g...more
9.1
???????? Sremska Kamenica 21208
Boasting a garden, a seasonal outdoor pool and river views, Lux Vila Aleksandar is set in Sremska Kamenica. The air-conditioned accommodation is 8 km...more
9.7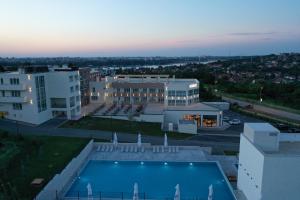 Fruškogorski put 23-25 Sremska Kamenica 21208
Nordic Resort features a restaurant, seasonal outdoor swimming pool, a bar and garden in Sremska Kamenica. The accommodation provides a 24-hour front...more
8.7
Last updated: 18 Aug 2022
Sremska Kamenica Hotel Categories
Sremska Kamenica Hotels by Quality Rating
Sremska Kamenica Hotel Group Booking Reservations
Sremska Kamenica Hotels with Conference, Parking and Internet Facilities
Sremska Kamenica Apartments,Suites and Family Hotels
Sremska Kamenica Hotels with Day Spas or Wellness Centres
Entertainment, Relaxation and Exercise at Sremska Kamenica
Sremska Kamenica Room facilities
Show all
Sremska Kamenica Hotel facilities
Show all
Sremska Kamenica Propety Type