Santa Marta City or CBD Hotels
For the fastest way to see the latest hotel and serviced apartment deals in Santa Marta enter your travel dates here.
The heart of Santa Marta CBD is a hive of activity - a great place for business opportunities or for soaking up restaurants, shopping and socialising. Be right in the action when you book a Santa Marta CBD hotel.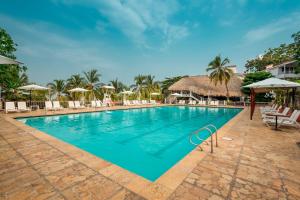 Km 17 vía a Cienaga Santa Marta 880007
Just 100 metres from Pozos Colorados Beach, the hotel offers a swimming pool, 2 tennis courts and a disco bar. Guests can dine on a pirate ship shaped...more
8.4
Last updated: 16 Oct 2021
Santa Marta Hotel Categories
Santa Marta Hotel Group Booking Reservations
Santa Marta Hotels with Conference, Parking and Internet Facilities
Santa Marta Apartments,Suites and Family Hotels
Santa Marta Hotels with Day Spas or Wellness Centres
Resorts & Boutique Santa Marta Hotels
Entertainment, Relaxation and Exercise at Santa Marta
Santa Marta Hotels by Brand