Soundproof Hotel Rooms in Saint-Pierre-d'Oléron
For the fastest way to see the latest hotel and serviced apartment deals in Saint-Pierre-d'Oléron enter your travel dates here.
Do not be disturbed by other guests, hotel staff or outside noise with these Saint-Pierre-d'Oléron hotels with sound proofed rooms. If you need to concentrate to get some work done or just need a good nights sleep without interruption some hotels in Saint-Pierre-d'Oléron do go out of their way to add soundproofing to ensure guests don't get interrupted by noise from other guests or housekeeping. Some of the techniques hotels use are double glazed windows and heavy curtains to keep street noise out, nicely sealed doors to keep corridor noise out, insulation between floors to keep other guest noise out of your room.
69, avenue des Pins - La Cotinière Saint-Pierre-d'Oléron 17310
Located on the Ile d'Oleron, the Hotel Île De Lumière offers direct access to the beach. It has an outdoor swimming pool, a tennis court and many othe...more
8.9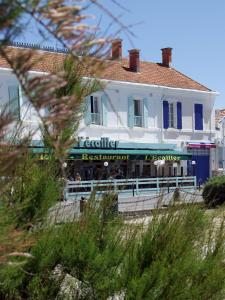 65 rue du Port - La Cotiniere Saint-Pierre-d'Oléron 17310
Located on the fishing harbour in La Cotinière, this hotel is only 100 metres from the beach. It offers individually decorated guest rooms equipped wi...more
7.1
11, rue de la Sablière - La Menounière Saint-Pierre-d'Oléron 17310
Featuring free WiFi and an outdoor pool, Atlantic Hôtel offers accommodation in Saint-Pierre-d'Oléron, 30 km from La Rochelle. Free private parking is...more
8.3
Last updated: 8 Aug 2022
Saint-Pierre-d'Oléron Hotel Categories
Saint-Pierre-d'Oléron Hotels by Quality Rating
Saint-Pierre-d'Oléron Hotel Group Booking Reservations
Saint-Pierre-d'Oléron Hotels with Conference, Parking and Internet Facilities
Saint-Pierre-d'Oléron Apartments,Suites and Family Hotels
Entertainment, Relaxation and Exercise at Saint-Pierre-d'Oléron
Saint-Pierre-d'Oléron Room facilities
Show all
Saint-Pierre-d'Oléron Hotel facilities
Show all
Saint-Pierre-d'Oléron Propety Type