Rincon Hotels with a Day Spa
For the fastest way to see the latest hotel and serviced apartment deals in Rincon enter your travel dates here.
Are you long overdue for a deliciously indulgent, pampering holiday in Rincon? Oxygen therapy, vichy showers, infinity pools and hot stone massages. Ok, now try picturing yourself at one of these Rincon hotels with dreamy day spas where it's "all about you"...
Enter your travel dates here to see room prices and availability for Rincon hotels with Day Spas.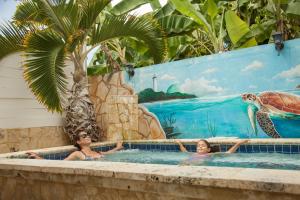 Wave Coast is located 500 metres from Sandy Beach and 3.3 km from Domes Beach. It features a private plunge pool and a furnished roof terrace with a h...more
8.5
Last updated: 18 Sep 2021
Rincon Hotel Categories
Rincon Hotel Group Booking Reservations
Rincon Hotels with Conference, Parking and Internet Facilities
Rincon Apartments,Suites and Family Hotels
Rincon Hotels with Day Spas or Wellness Centres
Resorts & Boutique Rincon Hotels
Entertainment, Relaxation and Exercise at Rincon