Paihia Penthouse Suites
For the fastest way to see the latest hotel and serviced apartment deals in Paihia enter your travel dates here.
The Paihia penthouse suites shown below are the largest and most luxurious rooms the hotels have to offer. The penthouse suite often includes large balconies, the best view, large bathrooms some with spa baths and special services from hotel staff.
Historically Penthouses were built out of necessity, they were literally small houses built on top of existing buildings when housing was in short supply. However the definition of the Penthouse soon changed when demand increased for larger houses in the middle of large cities like New York. Many luxury additions were made to the top floors of buildings and the modern luxury Penthouse was born.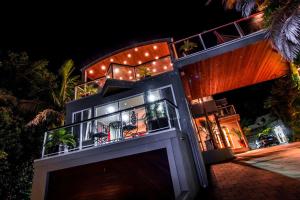 31 Bayview Road Paihia 0200
Each of these suites offers a fully equipped kitchen, a dining setting and laundry facilities. All include a living area with a sofa, flat-screen TV and DVD/CD player. A private balcony with ocean views is available in the Penthouse and Premier Suite....more
8.6
Last updated: 26 May 2022
Paihia Hotel Categories
Paihia Hotel Group Booking Reservations
Paihia Hotels with Conference, Parking and Internet Facilities
Paihia Apartments,Suites and Family Hotels
Paihia Hotels with Day Spas or Wellness Centres
Resorts & Boutique Paihia Hotels
Entertainment, Relaxation and Exercise at Paihia