Mantra Mooloolaba
A picturesque coastal town on Queensland's Sunshine Coast, Mooloolaba is one of Australia's most popular tourist destinations with a diverse range of accommodation options. If you are looking for a cool destination for your next beach vacation in Australia, you'll be pleased to hear that this exciting resort town is home to 3 Mantra properties.
Mantra Zanzibar
If your idea of a perfect tropical vacation includes staying at a fabulous beachside accommodation and enjoying magnificent views of Mooloolaba Bay, you'll want to spend a few nights at Mantra Zanzibar. Located right on the Esplanade and minutes from many boutique stores, sidewalk cafes and restaurants, this unique apartment hotel boasts 2 and 3 bedroom apartments and penthouses with an East African- inspired décor. These spacious air conditioned apartments have balconies with panoramic ocean views.
Leisure facilities at Mantra Zanzibar include a well-equipped fitness centre, heated swimming pool, hot tub, and barbeque facilities. You won't get bored at this beachside apartment hotel on the Gold Coast, as there are many nearby activities to enjoy ranging from water sports like scuba diving, surfing, and sailing to rock climbing and horse riding. Popular Queensland attractions including Sea Life Mooloolaba and Australia Zoo are just a short drive away from Mantra Zanzibar.
Mantra Zanzibar Top Features
Beachside location
Right on the Esplanade
Heated swimming pool
Spacious apartments with East African decor
Mantra Sirocco
Located on the Esplanade and just a short walk from some of the finest cafes and restaurants in Mooloolaba, Mantra Sirocco offers beachfront accommodation with an open-plan design and spacious balconies that offer panoramic ocean views. Whether you wish to stay at 2 and 3 bedroom apartments or you want to spend a few days at the hotel's penthouse that offers a private rooftop spa, Mantra Sirocco offers a wide range of unique accommodation options.
Popular attractions like Sea Life Mooloolaba, Australia Zoo and the Eumundi Markets are just a short drive from the property. Mantra Sirocco is not short on amazing leisure facilities including an outdoor heated swimming pool, spa centre, and a fully-equipped gym.
Mantra Sirocco Top Features
Spa centre and a heated swimming pool
Central location in the heart of Mooloolaba
Penthouse with private rooftop spa
Fitness centre
Mantra Mooloolaba Beach
If you are searching for a luxurious place to stay on the Sunshine Coast, look no further than the lovely Mantra Mooloolaba Beach. Some of the finest restaurants, cafes, and bars are located right at your doorstep and Sunshine Coast Airport is just a 15-minute drive away from the property. The hotel features 1, 2, and 3 bedroom apartments fitted with all the necessary amenities you need for a comfortable stay. Apartments boast spacious private balconies with magnificent ocean views.
Not to be missed is the charming observation deck that leads to a fantastic outdoor swimming pool and a spa with a sauna. If you wish to work out, the hotel boasts a state-of-the-art gymnasium.
Mantra Mooloolaba Beach Top Features
2 swimming pools
Right on the Esplanade
Easy access to Sunshine Coast Airport
Breath-taking Ocean views from private balconies.
Spa with Sauna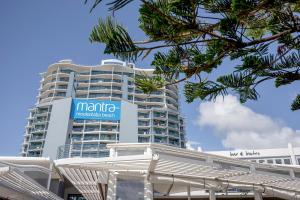 Cnr Venning Street and The Esplanade Mooloolaba 4557
8.62 km from Maroochydore MCY-Sunshine Coast airport
Centrally located on The Esplanade, Mantra Mooloolaba Beach features 2 heated swimming pools and a rooftop deck offering lovely city and sea views. The refurbished suites boast a balcony and a spa bat...more
8.3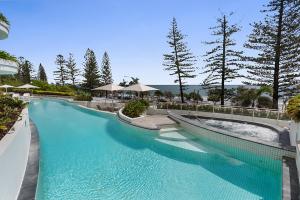 59-75 The Esplanade Mooloolaba 4557
8.79 km from Maroochydore MCY-Sunshine Coast airport
Located in the heart of Mooloolaba, Mantra Sirocco offers modern, self-contained apartments and an array of leisure facilities, just a short stroll from the beach, restaurants, cafes, bars and shops.T...more
8.5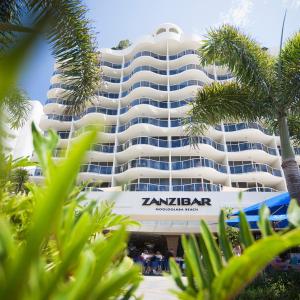 47-51 The Esplanade Mooloolaba 4557
8.82 km from Maroochydore MCY-Sunshine Coast airport
Located just 50 metres from the beach, Mantra Zanzibar offers self-contained apartments with stunning ocean views within walking distance of cafes, restaurants and shops.There is a choice of 2 and 3-b...more
8.3
Last updated: 6 May 2021