Luts'k Hotels with an Indoor Pool
For the fastest way to see the latest hotel and serviced apartment deals in Luts'k enter your travel dates here.
At these Luts'k hotel with indoor pools you can go for a swim whatever the weather is like outside. A hot summers day or a cold winters day are both the perfect time to go for a dip in an indoor pool at a Luts'k hotel. Most hotels with indoor pools have bathrooms or change rooms on the same floor as the swimming pool so you can get changed near the pool, put your clothes in a locker and have a shower after swimming too.
Chornovola Street, 17 Luts'k 43000
Sribni Leleky Hotel and Spa is only 2 km from Lubart's Castle. Hotel offers rree Wi-Fi, indoor pool and sauna.All rooms at Sribni Leleky Hotel and Spa com...more
9.2
Elektroaparatna Street, 4 Luts'k 43000
Maximus hotel has a restaurant, seasonal outdoor swimming pool, a fitness centre and bar in Luts'k. Boasting room service, this property also provides...more
7.9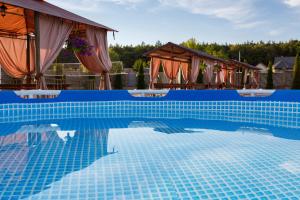 Dachne Village Ivana Franka Street 53 Luts'k 45244
Zolota Pidkova has a restaurant, seasonal outdoor swimming pool, a bar and shared lounge in Luts'k. Among the facilities at this property are a 24-hou...more
8.5
Last updated: 10 Aug 2022
Luts'k Hotel Categories
Luts'k Hotel Group Booking Reservations
Luts'k Hotels with Conference, Parking and Internet Facilities
Luts'k Apartments,Suites and Family Hotels
Luts'k Hotels with Day Spas or Wellness Centres
Entertainment, Relaxation and Exercise at Luts'k