Boutique Knysna Hotels
For the fastest way to see the latest hotel and serviced apartment deals in Knysna enter your travel dates here.
Think intimate and charming when you consider one of our boutique Knysna hotels. Staying at a boutique Knysna hotel offers you a different type of travel experience to mainstream properties, often with a focus on luxury and a warm, inviting atmosphere.
Be it the personalised services, themed rooms or unique architecture ranging from sleek and sexy to cute-as-a-button, you'll be impressed by the individuality of these boutique Knysna hotels.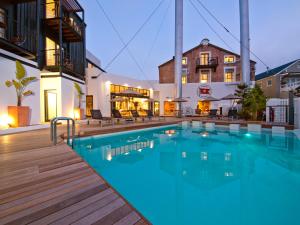 TH36 Sawtooth Lane, Thesen Islands Knysna 6571
This former power station is located in Knysna and offers sunny suites with an iPod docking station and views of the Knysna Lagoon. The spacious sun d...more
9.1
The Boatshed, Long Street, Thesen Island Knysna Welbedacht 6570
Situated at the tip of picturesque Thesen Island, The Lofts Boutique Hotel offers uniquely themed accommodation and an outdoor splash pool overlooking...more
8.9
150 Old Cape Road Knysna 6571
Situated right at the edge of Knysna Lagoon, On The Estuary offers accommodation with a relaxed atmosphere and panoramic views of Knysna Heads. Facili...more
8.4
Last updated: 27 Jun 2022
Knysna Hotel Categories
Knysna Hotel Group Booking Reservations
Knysna Hotels with Conference, Parking and Internet Facilities
Knysna Apartments,Suites and Family Hotels
Knysna Hotels with Day Spas or Wellness Centres
Resorts & Boutique Knysna Hotels
Entertainment, Relaxation and Exercise at Knysna