5 Star Kegalle Hotels
For the fastest way to see the latest hotel and serviced apartment deals in Kegalle enter your travel dates here.
Luxury, luxury, luxury, no seriously, whether it's a special occasion or just the way you always travel, 5 star Kegalle hotels are synonymous with luxury, high quality, the best service, the latest technology and are often in stunning locations (there should be a 6 star Kegalle hotel category for those 5 star hotels that really are in unique locations).
Book your 5 star hotel in Kegalle from the list below, live it up and get the special treatment you deserve.
If you would like to see more of the best luxury hotels in Sri Lanka click here.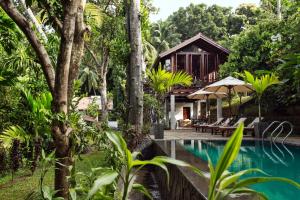 Rosyth Estate House has a restaurant, free bikes, an outdoor swimming pool and bar in Kegalle. With a shared lounge, the 5-star hotel has air-conditio...more
8
Last updated: 2 Aug 2022
Kegalle Hotel Categories
Kegalle Hotels by Quality Rating
Kegalle Hotel Group Booking Reservations
Kegalle Hotels with Conference, Parking and Internet Facilities
Kegalle Apartments,Suites and Family Hotels
Kegalle Hotels with Day Spas or Wellness Centres
Entertainment, Relaxation and Exercise at Kegalle