Jackson Hotel Accommodation
For the fastest way to see the latest hotel and serviced apartment deals in Jackson enter your travel dates here.
Here is a quick summary of the type of hotels and accommodation you will find in Jackson.

, and 3 star hotels providing everything for the budget conscious.

Keeping active is entirely possible at the 2 hotels in Jackson with a gym and the 2 hotels with a pool. 2 of the hotels have both a gym and a pool.


If you are visiting Jackson for a business trip you may be interested in the 2 Jackson hotels with conference facilities. 2 Jackson hotels have parking.
Find the best hotels in Jackson for your budget from our range of hotel accommodation options in and around Jackson United States.
Making your hotel reservation is easy with Hotel.com.au, enter your travel dates for Jackson and click 'See Deals' to check prices. You can then select your hotel, select your room and finally enter your contact and payment details. We usually have many flexible 'book now pay later' options for most hotel rooms in Jackson. When you book your confirmation will be immediate and you will then see your confirmed hotel reservation on screen and be emailed a copy too.
When is the best time to book Jackson hotels to get the best price? Well you do not need to worry, because once you make a reservation with free cancellation (so excluding special non-refundable bookings only) we will check the price every day for you. And if we see it on sale or cheaper we will send you an email. You can then re-book at the cheaper rate or in some cases upgrade your room.
To see room prices, deals and availability for Jackson hotels start by clicking here to enter your travel dates.
2904 Old Orchard Road Jackson MO 63755
The Comfort Suites hotel is just under six miles from Southeastern Missouri State University, home of the Redhawks. This hotel is close to a number of attractions and notable points of interest, inclu...more
8.7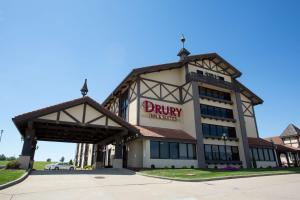 225 Drury Lane Jackson MO 63755
Conveniently located along Interstate 55, this Jackson, Missouri hotel is 15 miles from Cape Girardeau Regional Airport. A daily hot breakfast is served, and each room includes free Wi-Fi.A 37-inch f...more
9.4
3003 S Old Orchard Rd Jackson 63755
sorry no description available for this hotel at this time.If you have any queries please contact us [email protected]
...more
Last updated: 24 Nov 2020
Jackson Hotel Categories
Jackson Hotel Group Booking Reservations
Jackson Hotels with Conference, Parking and Internet Facilities
Jackson Apartments,Suites and Family Hotels
Resorts & Boutique Jackson Hotels
Entertainment, Relaxation and Exercise at Jackson