Fortitude Valley Hotels with Free WiFi
Enter your travel dates now for the fastest way to see the latest hotel and holiday home deals in Fortitude Valley.
Are you a techno tragic who's wired for widgets and ga-ga for gadgets? Well now you can go on holidays and never have to worry about withdrawal symptoms.
Not just for business travellers anymore, the internet is fast becoming a necessity for everyone. We give you the leading Fortitude Valley high-tech hotels for cheap (or free) internet so you can stay connected throughout your stay.
Recommended for you
Near Fortitude Valley Hotels with Free WiFi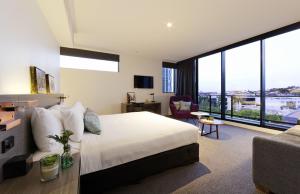 12 Church Street Brisbane Fortitude Valley 4006
Just 8 minutes' walk from Jubilee Hotel and 10 minutes' walk from the RNA Showgrounds, Alpha Mosaic Hotel boasts a restaurant, a bar and a sunny terrace. All rooms boast free unlimited WiFi and a priv...more
Rated 4.5 out of 5 by 400
14-20 Constance Street, Fortitude Valley QLD Brisbane Fortitude Valley 4006
Located in the cultural centre of Fortitude Valley, Tryp Fortitude Valley features rooms with unique street art interiors. All include free WiFi and satellite TV.Tryp Accommodation is a 5-minute drive...more
Rated 4.5 out of 5 by 861
142 Constance St, Fortitude Valley Brisbane Fortitude Valley 4006
Featuring free WiFi, complimentary minibar and 2 rooftop plunge pools, Limes Hotel is located in the heart of Brisbane's trendy Fortitude Valley area, 5 minutes' drive from the city centre. It offers...more
Rated 4 out of 5 by 257
24 Brookes Street Brisbane Bowen Hills 4006
Pavilion and Governor on Brookes offers self-contained accommodation in 2 separate buildings. The buildings are 400 metres from RNA Showgrounds and 900 metres from Royal Brisbane Womens Hospital. All...more
Rated 4.5 out of 5 by 109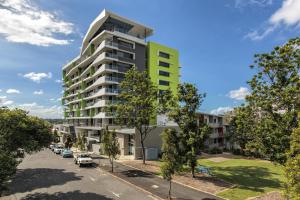 8 Jeays street, Bowen Hills Brisbane Bowen Hills 4006
Located just a 10-minute drive from Brisbane Central Business District, Code Apartments offers a heated outdoor swimming pool and a fitness centre. Bowen Train Station is a 5-minute walk away and Bris...more
Rated 4 out of 5 by 80
72 Heal Street, New Farm Brisbane New Farm 4005
Just 10 minutes' drive from Brisbane City Centre, Heal House offers elegant suites with luxury amenities and free WiFi. Guests can relax on the spacious terrace, while enjoying the picturesque gardens...more
Rated 5 out of 5 by 89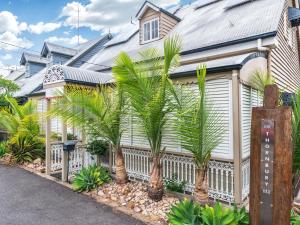 1 Thornbury Street, Spring Hill Brisbane Spring Hill 4000
One Thornbury Boutique BandB is a stylish 1886 Queenslander cottage boasting free WiFI and free continental breakfast. It is 10 minutes' walk from Fortitude Valley and Chinatown's many pubs, clubs and c...more
Rated 5 out of 5 by 425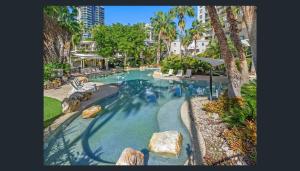 55 Baildon Street Brisbane Kangaroo Point 4169
Located on Brisbane's Kangaroo Point, Bridgewater Apartments offer contemporary accommodation with free Wi-Fi and private parking. The property features a lagoon spa pool and panoramic views over the...more
Rated 3.5 out of 5 by 138
15 Goodwin Street, Kangaroo Point Brisbane Kangaroo Point 4169
This 4.5-star property offers affordable accommodation with free WiFi, in the heart of Kangaroo Point. It is close to the Brisbane River, Story Bridge and the ferry terminals.The Docks on Goodwin cons...more
Rated 4.5 out of 5 by 174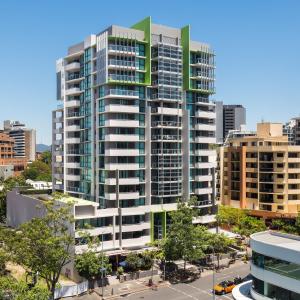 454 Upper Edward Street Brisbane Spring Hill 4000
Quest Spring Hill Brisbane Apartment Hotel features spacious, beautifully appointed apartments, a valet car service for up to 7 guests, free unlimited WiFi, swimming pool, BBQ and fitness facilities....more
Rated 4.5 out of 5 by 431
Fortitude Valley Hotel Categories
Fortitude Valley curated hotel lists
Show all
Fortitude Valley Hotel Group Booking Reservations
Fortitude Valley Hotels with Conference, Parking and Internet Facilities
Fortitude Valley Apartments,Suites and Family Hotels
Entertainment, Relaxation and Exercise at Fortitude Valley
Fortitude Valley Room facilities
Show all
Fortitude Valley Hotel facilities
Show all
Fortitude Valley Propety Type