Currumbin Hotel Accommodation
Enter your travel dates now for the fastest way to see the latest hotel and holiday home deals in Currumbin.
Find the best hotels in Currumbin for your budget from our range of hotel accommodation options in and around Currumbin Australia.
Making your hotel reservation is easy with Hotel.com.au, enter your travel dates for Currumbin and click 'See Deals' to check prices. You can then select your hotel, select your room and finally enter your contact and payment details. We usually have many flexible 'book now pay later' options for most hotel rooms in Currumbin. When you book your confirmation will be immediate and you will then see your confirmed hotel reservation on screen and be emailed a copy too.
When is the best time to book Currumbin hotels to get the best price? Well you do not need to worry, because once you make a reservation with free cancellation (so excluding special non-refundable bookings only) we will check the price every day for you. And if we see it on sale or cheaper we will send you an email. You can then re-book at the cheaper rate or in some cases upgrade your room.
To see room prices, deals and availability for Currumbin hotels start by clicking here to enter your travel dates.
Recommended for you
Near Currumbin
31 Teemangum Street Gold Coast Currumbin Beach 4223
4.00 km from Gold Coast OOL-Coolangatta airport
Offering direct beach access and a large swimming pool with a hot tub, Sandcastles On Currumbin Beach is surrounded by tropical gardens. All apartments feature a private balcony.Located on the beach a...more
Fabulous 8.5/

10
Score from 160 reviewers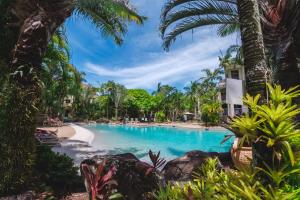 40 Teemangum Street, Currumbin Gold Coast Currumbin Beach 4223
4.00 km from Gold Coast OOL-Coolangatta airport
Just 100 metres from peaceful Currumbin Beach, Sanctuary Lake Apartments offer a private balcony with pool and garden views. The property features an outdoor pool, a hot tub and a sunny terrace.Sanctu...more
Rated 4 out of 5 by 194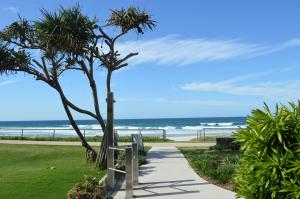 47 Teemangum Street, Currumbin Gold Coast Currumbin Beach 4223
4.08 km from Gold Coast OOL-Coolangatta airport
Located on the beach front at Currumbin Beach on the Gold Coast, Sanctuary Beach Resort offers a variety of two and three-bedroom fully self contained and air-conditioned units featuring beach, ocean...more
Rated 4 out of 5 by 152
47 Teemangum Street Gold Coast 4223
Boasting a patio with pool views, an outdoor swimming pool and a tennis court, Sanctuary Beach Retreat can be found in Gold Coast, close to Currumbin Beach and 350 metres from Tugun. This apartment fe...more
Superb 9.4/

10
Score from 79 reviewers
203/2 Tomewin Street Gold Coast 4223
A few steps from Currumbin Beach, WAVES 203 ON CURRUMBIN is a beachfront property in Gold Coast, providing amenities such as a kitchen and TV. With free private parking, the property is 400 metres fro...more
Fabulous 8.5/

10
Score from 1 reviewers
722 Pacific Parade Gold Coast 4223
Set in Gold Coast, 50 metres from Currumbin Beach, 500 metres from Tugun and less than 1 km from Palm Beach, Rigi on Currumbin Beach offers accommodation with a balcony and free WiFi. The property is...more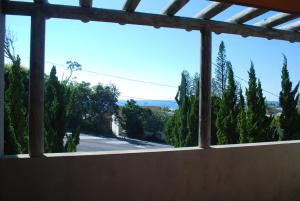 20 WOODGEE STREET Gold Coast 4223
20 Woodgee Street, Currumbin is situated in the Currumbin district of Gold Coast, less than 1 km from Palm Beach, a 15-minute walk from Currumbin Wildlife Sanctuary and 7 km from Burleigh Head Nationa...more
Superb 10/

10
Score from 1 reviewers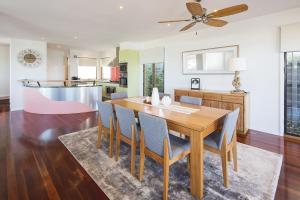 7 Nimmel Lane Gold Coast 4224
Boasting sea views, Tugun Lookout provides accommodation with a balcony and a kettle, around 200 metres from Currumbin Beach. Situated 150 metres from Tugun, the property features an outdoor swimming...more
Review score 5/

10
Score from 2 reviewers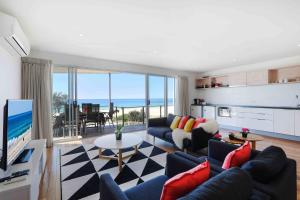 616 Pacific Parade 8 Gold Coast 4224
Sandbox Luxury Apartments offers accommodation in Gold Coast, 700 metres from Currumbin Wildlife Sanctuary. Guests benefit from terrace.The kitchen is fitted with a dishwasher. Towels and bed linen ar...more
Fabulous 8.8/

10
Score from 443 reviewers
3/1 Wyberba St Gold Coast 4224
BRIGADINE TUGUN, UNIT 3 is a beachfront property set in Gold Coast, 1.2 km from Currumbin Wildlife Sanctuary and 8 km from Burleigh Head National Park. Situated 400 metres from Currumbin Beach, the pr...more
Good 7.1/

10
Score from 2 reviewers
Currumbin Hotel Categories
Currumbin Hotel Group Booking Reservations
Currumbin Hotels with Conference, Parking and Internet Facilities
Currumbin Apartments,Suites and Family Hotels
Entertainment, Relaxation and Exercise at Currumbin
Currumbin Hotel facilities