Main Street Brisbane Hotels
We Price Match. So if you book and find a hotel on Main Street in Brisbane cheaper? We will refund the difference!
Looking for a hotel on Main Street in Brisbane? Enter your travel dates to compare available hotels on Main Street Brisbane only or browse the list below to see all hotels found on Main Street Brisbane. If you do wish to see a wider view of Brisbane then please select 'All' Brisbane hotels when you select your dates. Please also see the map showing just the hotels along Main Street Brisbane.
650 Main Street Brisbane Kangaroo Point 4169
This clean, modern motel is located at Kangaroo Point, a peaceful yet convenient setting just 2 km from Brisbane CBD. Its facilities feature an outdoor swimming pool. Free WiFi is available.The air-co...more
8.5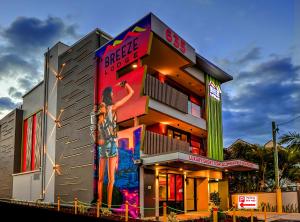 635 Main Street Kangaroo Point Brisbane Kangaroo Point 4169
Conveniently located in the heart of Kangaroo Point and 2 km from Brisbane CBD (Central Business District), Breeze Lodge is within a 10-minute walk from The Gabba Stadium, a free CityHopper ferry, sho...more
8.8
649 Main Street Brisbane Kangaroo Point 4169
Paramount Motel is located 2 km from central Brisbane and a 5-minute drive from South Bank. It features an outdoor pool, barbecue facilities, and guest rooms with free Wi-Fi and a full kitchen.The air...more
8.5
Last updated: 23 Oct 2020
Brisbane Hotel Categories
Brisbane Hotel Group Booking Reservations
Brisbane Hotels with Conference, Parking and Internet Facilities
Brisbane Apartments,Suites and Family Hotels
Brisbane Hotels with Day Spas or Wellness Centres
Resorts & Boutique Brisbane Hotels
Entertainment, Relaxation and Exercise at Brisbane